[iL*]-Aufruf: NOBORDER Camp Thessaloniki 15.-24. Juli / SOLIDARITY4ALL! Protestcamp Bamberg 4.-7. August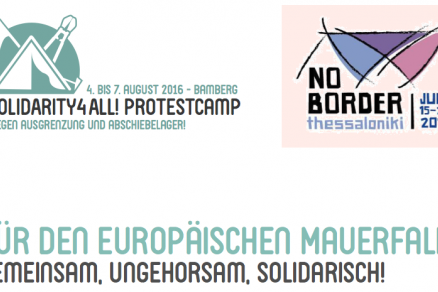 The last year revealed that Europe is contested as never before. Very promi- nent has been the movement of migrati- on, unleashed by capitalistic exploitation policies and ongoing brutal geostrategic in ghting. Thousands of people set out on a life-threating journey in search of a live without war and poverty. Thereby, they de ed borders and militaries. This movement sparked a wave of solidarity and self-organization throughout Europe. From Idomeni to Calais, from Lesbos to Lübeck, millions of people provided flight support or replaced social welfare tasks in welcome initatives. Many demonstrated their resistance in direct ac- tions on the borders or organized themselves in "city for all" initiatives.

On the other hand however, we also had to witness the renewed strength of ra- cist and right-wing populist parties and movements, promoted by the governments of the so-called "centre".They tighten the asylum law, select between "useful" and "non-useful" migrants and refugees and play precarious workers and migrants off against each other. At the same time, the walls of Fortress Eu- rope are pulled up and militarized as if they want to build up a cage. The bloody EU-Turkey deal as well as the military ac- tions against refugee boats on the Me- diteranean Sea manifest once again: it is time to act and to organize ourselves transnationally against the Fortress Eu- rope. Reinforcing national borders and EU external borders cannot be a soluti- on. As long as war, poverty and global injustice persist – and largely driven by the EU – people will take ever deadlier Safe refugee routes are needed!
Ferries instead of Frontex!
Let's make Thessaloniki the symbol of transnational resistance!
All this shows that it is necessary to un- derstand and recognize Europe as political battle eld. That the camp takes place in Greece is important: after all, it is the country where the deeply autho- ritarian and inhumane character of neo- liberal Europe manifested itself most strongly in its double character. On the one hand in the context of the austerity program with all its political and social implications. On the other hand in form of the brutal enforcement of the Euro- pean foreign and walls-up policy, as a re- sult of which people are being deported back into war zones. Therefore, and like many of our international comrades, we call for the NoBorder Camp in Thessalo- niki. We want to have an exchange with thousands of international activists, solidarity groups, refugee and migrant self- organizations. Together with all those, who have been ghting racism, exclusi- on and deportation for years as well as all those who provided practical support along the refugee routes during the last year, we want to set a strong and acti- vist signal of solidarity against Fortress Europe.

Our responsibility in the heart of the border regime – Against the deportation center in Bamberg
We know that the ght against Europe's external borders must also take place from the inside. That is why we are also calling for the Solidarity4All Camp in Bamberg (Bavaria, Southern Germany) from August 4 to 7. One of the rst "special camps" is located in Bamberg, in which primarily people from so-called "safe countries of origin" are placed in isolation and pushed through a fast- track asylum procedure, only to be de- ported as quickly as possible. Our goal is to establish contacts to the people in this special camp and to protest together at the Solidarity4All Camp against such a mass deportation camp as blueprint for other such facilities.
Let's connect existing migrant and anti- racist struggles and structures from Calais to Idomeni, from Thessaloniki to Bamberg.
For a fall of the European Wall. Together, disobedient, in solidarity.
Solidarity4All Protestcamp Bamberg 4th - 7th August 2016
protestcamp-bamberg.antira.info - facebook: protestcampbamberg - solidarity4all@antira.info (link sends e-mail)
NoBorder Camp Thessaloniki 15th - 24th July 2016
contact@noborder2016.com (link sends e-mail) noborder2016.espivblogs.net

[iL*] interventionistische Linke
kontakt@interventionistische-linke.org (link sends e-mail) - interventionistische-linke.org - facebook: InterventionistischeLinke