Berlin Rally due to the war Kriegs in Israel & Palestine 13.11. 18 Uhr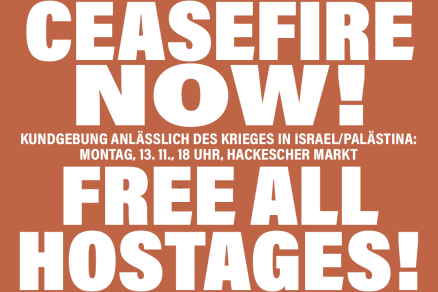 In memory of all the people in Israel and Palestine who have been killed, kidnapped, injured or displaced since October 7th, we demand:
No bombs, no rockets - ceasefire now! Immediate release of the hostages! An end to the blockade and freedom for civilian prisoners! Fight antisemitism and racism! For humanity and human rights! Injustice cannot be fought with injustice!
On November 13, we want to take a stand against violence and dehumanization and send a clear signal.
We mourn all the victims in Israel and Palestine, every additional victim is one too many!
We commemorate the people murdered, injured and kidnapped by Hamas and allied groups on October 7, 2023. All hostages must be released immediately!
We commemorate the people killed, injured, displaced and unjustly imprisoned by the attacks of the Israeli army and their consequences in Gaza and the West Bank since October 7, 2023. An immediate ceasefire is needed!
Our sympathy goes out to the families and friends of all those murdered, all those abducted, all those unjustly imprisoned. Our thoughts are with the people in Israel and Palestine who are experiencing days full of fear and terror! The current situation in Israel/Palestine exacerbates the suffering on all sides: every day. It dehumanizes: every day. The bombing of refugee camps, the acceptance of thousands of civilian casualties, the shutting down of hospitals - the people of Gaza are painfully aware that their lives do not count. This is injustice, this is suffering. In Israel, people are in mourning for their loved ones, do not know where they are and are threatened by rocket attacks - many have lost hope for the protection of Jewish life as a result of the massacre. This too is injustice, this too is suffering. And all this suffering is inhumane.
In a conflict characterized by decades of violence, displacement and occupation, many experience incomprehensible pain and anger. We want to create a place where, despite our different opinions and experiences, we can call for an end to the escalation together. Because we all agree that one injustice cannot justify another. No bombs, no missiles!
Here in Germany, too, the war is exacerbating the suffering: we are stunned by the increased threats and attacks against Jewish institutions and Jews as a result of the events - especially while they are grieving and worried about friends and family. Anti-Semitism and threats to Jewish life were a reality in Germany before October 7. The German government is now staging a fight against anti-Semitism that primarily points the finger at supposed others - just a few weeks after the Aiwanger case. We clearly oppose all antisemitism!
We are appalled that Palestinian voices and symbols are being criminalized and dehumanized across the board. Their anger, grief and concern for friends and family must be allowed to be expressed. As must criticism of the Israeli military's conduct of war and the massive increase in attacks by settlers on Palestinians in the West Bank. The racist propaganda in the current situation, the attacks on Muslim institutions and the instrumentalization for migration policy show once again how deeply anchored anti-Muslim racism is in Germany. We clearly oppose all racism!
Even before October 7, a solution to the decades-long conflict in Israel/Palestine hardly seemed realistic. But the escalation of violence since October 7th makes the situation even more hopeless for all people in the region. We stand with those who do not want to give up the struggle and the hope for a better life in peace, equality and self-determination for all in Israel and Palestine. This will only be possible without occupation and without Hamas.
Take to the streets with us on November 13. Against the war, for humanity. Ceasefire now! Release all hostages!
Rally 13.11.2023
6 pm
Hackescher Markt